Products You May Like
Pelicans center Willy Hernangomez credits his success to his family: his parents and siblings, his Spanish NBA mentors, and his New Orleans teammates.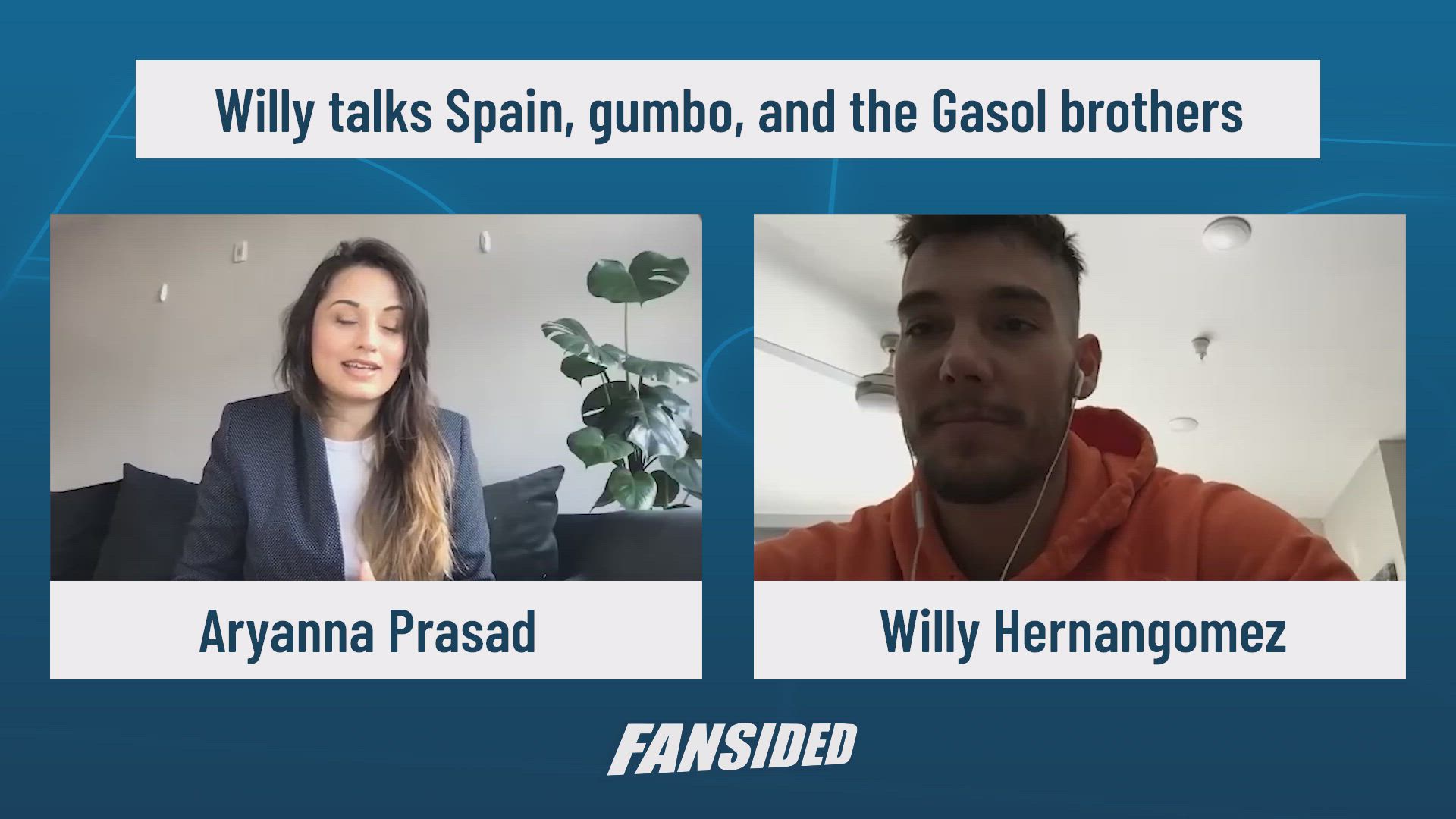 "Las cosas en equipo. Las cosas en familia. Saben mucho mejor."
Willy Hernangomez has tasted victory in a way few other professional athletes ever have.
Willy wasn't the first person to win gold at the FIBA Basketball World Cup in 2019, and he wasn't the only one on Team Spain who hoisted gold among cheers. But Willy and his younger brother, Juancho Hernangomez, did it together — the way the Gasol brothers did for years.
The Hernangomez brothers follow the path of the Spanish kings of the court that paved the way for them, but their lineage in the sport is infused into their DNA. Basketball is in the blood. Wonny and Guillermo decreed it so.
Before she welcomed Willy and his siblings into the world, Margarita "Wonny" Geuer was a Spanish basketball star. She began playing at 14 years old in her hometown of Sevilla, and by 17, she was playing professionally in the Liga Feminina, Spain's equivalent of the WNBA.
Representing Spain from 1985 to 1993, Geuer won four Liga Feminina titles: three consecutive titles from 1984-1986, and one in 1993. Her final two years were her most successful ones, culminating in an Olympic appearance at the Barcelona 1992 Olympics, then the 1993 Liga Feminina title, then the 1993 FIBA European Champions Cup.
The next year, Wonny welcomed her son Guillermo into the world, but he goes by Willy now.
Willy was named after his father, Guillermo Hernangomez, who played Spanish basketball for Real Madrid and several Primera B teams throughout the 1980s. Willy didn't just inherit his name from his father — his 6-foot-11 stature mimics his father's 6-foot-8 frame, and his position as a center is inherited from the elder Guillermo.
Wonny and Guillermo began their family in 1994, and they have raised a new generation to uphold the Geuer-Hernangomez name. Willy is a center for the New Orleans Pelicans, Juancho is a forward for the Utah Jazz, and their younger sister, Andrea, is a forward for the Fairfield Stags, which currently ranks first in the Metro Atlantic Athletic Conference of NCAA Division I basketball.
Pride in familial roots and national ones mean everything to the burgeoning Hernangomez dynasty. When her sons both made the Spanish National Team in 2017, Wonny said, "There is no greater pride than seeing and having Willy and Juancho together on the National Team. Getting up when the anthem sounds and seeing your son there on the court is already an immense satisfaction, more than when I played. But if the two are together, it is the thing of dreams, much better even than seeing them both in the NBA."
Willy believes there's still one thing that makes his mother even prouder.
"I think the thing that makes my parents the most proud is seeing that we're still together," Hernangomez said. "Doesn't matter if I'm in New Orleans right now, my brother is in San Antonio [Juancho was traded to Utah last week], and my sister in New York. If we have to find  a way to see each other, we're gonna do that."
Despite the geographical distance, the sprawling Hernangomez clan remains as close as possible. When Willy played the New York Knicks on Jan. 20, Andrea wanted to meet him for dinner. She finished practice, took a train an hour and a half from Fairfield, spent time with her brother, then took a car back home because she had school in the morning.
"That's so impressive," Willy recalled. "How much she loves me, how much she wants to spend time with me, because [the travel] was so hard."
"The next morning, I called her and I said, 'I'm so tired, but I'm so glad that I was able to see you and spend some time together.' And it was amazing. The way we love each other, it's something special."
La familia Hernangomez
As proud as Wonny was to see her sons take the court together on the Spanish National team in 2017, the Hernangomez Brothers would do something even more spectacular to honor their parents at the 2019 FIBA World Cup.
In Spanish and Latin culture, it's tradition for children to carry the paternal name of their mother and the paternal name of their father as their own. These hyphenated names commemorate the lineage of both parents, but in basketball, there's only room for one name on the back of the jersey. Willy plays in the NBA as "Hernangomez", but at the World Cup, his jersey sported the other half of his name. "W. Geuer", Willy's jersey read. As it happens, "Willy Geuer" was able to replicate the name and initials of his mother. With W. Geuer and J. Hernangomez on the court, everything Willy's parents gave him were remembered that day.
"First of all, to have the possibility to have two brothers on the National Team, I think it's so special and so unique," Willy said when reflecting on that moment.
"So, in Spain and Europe, we always have the tradition to have our father's name on the back, so I was like, 'I think my mom, she helped us so much, why don't I show her love?' I just decided to have the 'W' and her last name, 'Geuer,' which is her name — Wonny Geuer — and her number, No. 14, and everything, so it feels like my mom sees herself playing back in the day."
"And it worked good!" Willy exclaimed. "We won the World Championship in China, so I'm gonna use it forever."
Long before Willy and Juancho made the National Team or NBA rosters, Wonny and Guillermo were teaching the basics in their hometown of Madrid.
"My mom was a great post player, so I think she was the first person to teach me a couple moves on the post: how to use my footwork, how to use my length," Willy said. "That was absolutely my mom. And I think my dad, coming from a humble family, always taught me that I have to work hard every day. Doesn't matter if you're playing or you're not playing, you have to win the day. You have to be 1 percent better every single day. My dad, he does that at basketball and even at his job, so it's something that he's taught me since the beginning: always work hard, no matter the situation. He always gave me that humble commitment to basketball and to life as well."
Willy and Juan grew up dribbling against their parents in pickup games until the day Wonny and Guillermo realized they could no longer keep up with their sons.
"It was so amazing to compete against each other when we were young, but we got to that point where it was me and my brother against my parents, and we were not kids anymore, so we have more power and more strength," Willy said.
"I remember we were playing a pickup game on my grass, we had our old basket right there, so we used to play a lot of two against two — my sister, she was too young to play. I remember our last game against my parents. I was playing the post against my mom, and I was about to turn, and I hit my mom's face with my elbow, so she started bleeding and bleeding."
"It was the last time we played against each other because, by that point, she knew that it was over because we were getting taller, we were getting stronger and bigger, and it was a bad way to finish. But it was so much fun [before then] because every weekend, we used to take the bikes and go to a basketball club close to our house. And it was an amazing time to spend with my parents. They were teaching us the little things, and that's why we fell in love with basketball from the beginning. It was just the little details, and my parents, they've been teaching us."
In a family of career basketball players, Willy believes he is the most competitive one, and his final game against his parents proves that he doesn't hold back during games. Any game, to be exact — even board games like Monopoly.
"I really hate to lose, and I really get mad," Willy said. "Doesn't matter if it's my sister, my brother and my parents, even if we're playing Monopoly, I'm the guy who always wants to win. I think that's why we don't like to play that many card games or table games with my family because we get mad with each other because everybody wants to win. We are a really competitive family. Everybody — my sister is about to play professionally as well — we have that in our genetics. And it's been fun because we really push each other to the limit in every single game. Doesn't matter if it's basketball or Monopoly or table games. It's been fun, but I would say I'm the most competitive person in my family."
Willy may be the most competitive Hernangomez, but he also has another distinct role in his family: as the eldest brother. Although their parents have passed down so much to all three of their children, Willy inhabits the role of protective big brother by sparing his younger siblings from mistakes.
"Being the oldest brother is always a big responsibility to try to teach my older two siblings the right way," Willy said. "I was the person who made the mistakes, I was the person who was trying to do it right so my brother and sister can maybe have it easy. I think in my family, it was always easy from the beginning, the way my parents have been teaching us and taking care of us from the beginning. I'm so blessed to have the brother and the sister that I have because they've helped me so much from the beginning."
"I would say we are a good team, too. We're helping each other; we have similar goals in life. I'm just very blessed to be in my family and to be the oldest brother because I just love my position in my own family."
Even though Juancho and Andrea have learned from their older brother, Willy has also learned important qualities from each of them. Both younger siblings have the insatiable desire to compete, but Juancho is the one who keeps Willy on his toes on the court. Andrea has been cheering on her older brothers all the way into successful NBA careers, offering love and emotional support.
"And then with my brother and my sister, it's just about competing, it's about getting better," said Willy. "It's about competing against my brother when we play against each other. With my sister, there's just love, the way that she loves us, the way that she takes care of us, it is something special. They're not only my brother and my sister — they're both my best friends."
The heights of success for the Hernangomez children does come with a particular drawback: they are a Spanish family, and their parents and family members live in Spain while all three children played in the United States. All three children are spread out across different American cities, and this is a factor constantly in flux — NBA trades happen swiftly and often, especially in the early winter months. In a span of six months, Juancho has played for four different NBA teams. The Minnesota Timberwolves traded Juancho to the Boston Celtics on August 25, then the Celtics traded him to the San Antonio Spurs on Jan. 19. The Utah Jazz acquired him in a deadline trade on Feb. 9.
"It's been hard," Willy admitted. "I don't want to lie, it's been tremendously hard in the last couple years, because we used to be a really close family that loved to spend time together, especially around Christmastime. We always try to find a way to see each other for at least two days, maybe for Christmas or New Year's. I remember three years ago when I was in Charlotte, the team gave us a day and a half off and my sister had off for school, so my parents flew to Denver where my brother was playing back in the day. So I took a flight one morning to have lunch and dinner with my family, and the next morning, I had to fly back to Charlotte to play with my team. It was the last time that we spent Christmas Day together, and it's been hard, but I'm really thankful right now we have Zoom and we have other platforms to be in touch with the family. We used to have a Zoom call or FaceTime call with all of my family members, with my grandmother. It's been great. It's the closest way to be connected and be together on those special days."
Visits with his family have been few and far between the past few years, so Willy has often turned to his Spanish brethren playing stateside. The Spanish National Team and the ACB (Asociación de Clubs de Baloncesto), Spain's national league, have developed some of the NBA's best players. The Gasol Brothers, Serge Ibaka and Ricky Rubio rose through ACB ranks, while Slovenia's Luka Doncic played for Real Madrid as a "17-year-old prodigy." For Spanish NBA players, there is a brotherly bond — and an exclusive WhatsApp chat.
"I remember my first year in the league, there were almost 11 Spanish players around the league, which was amazing because almost every week, you see a teammate. It was weird because we used to have a group on WhatsApp, so we were still talking every week."
The Spanish basketball players maintain a special tradition: whenever one player hosts another for a game, he is obligated to bring him out for a nice dinner.
"If I go to see my brother, the night before the game, we love to go to dinner, and the person who lives in the home city has to pay for that dinner. Sometimes, when the guys come into New Orleans, [I owe them dinner because] when I was in Charlotte, I always told them, 'No, I'm busy, I cannot go do this,' and I was skipping that part," Willy joked.
"It was great because our goal is trying to see each other before the game and talking about the season and our families and getting to know how this season is going. I would love to go to a Spanish restaurant as well if there is the possibility, so it's been great this year. Obviously, we only have Ricky, my brother and me, and Usman Garuba and Santi Aldama as well, so it's been hard, but hopefully, in the future, we can have more players and we can be like 10 or 11 players in the NBA again."
La Hermandad Española
The Hernangomez Brothers represent a unique place between generations of Spanish basketball. Before them came Pau and Marc Gasol, the Spanish brothers who share three NBA Championships between them. The 41-year-old Pau retired on Oct. 5, 2021, but he began his 20-year NBA career as a trailblazer for international players. In 2002, he was the first foreign player to win the NBA Rookie of the Year Award and was named to the NBA All-Rookie Team.
But before that, Gasol was actually named the King of Spanish Basketball — in a sense, at least. When FC Barcelona won the Spanish King's Cup in 2001, Pau was declared the MVP. Pau also played alongside another king of the sport in Kobe Bryant, who believed the Lakers should have retired Pau's No. 16 jersey long ago.
Willy was an older brother to Juancho, but it was the Gasol brothers who acted as older brothers to both of them that brought them golden moments. Marc was there in 2019 when the Hernangomez brother brought home gold.
"I say to Marc and Pau, 'You guys are my oldest brothers,'" Hernangomez said. "I was so happy to serve so many moments with Pau and Marc and accomplish so many goals with the National Team and win so many things. The experience that I have is so valued for me."
The relationship between the Gasol and Hernangomez brothers goes beyond that of typical teammates. Despite their one-year difference in age, Willy and Juancho were both drafted to the NBA in 2016. Willy went to the New York Knicks, while Juancho headed all the way to Colorado to the Denver Nuggets. While it was incredible for two brothers to be drafted to the NBA in the same year, it didn't come without its difficulties. The Gasol brothers were always there, constantly checking in to see if they needed guidance in their new surroundings.
"We are so happy to be able to say that our "brothers" [the Gasol brothers] are both like our mentors because from the first year that we've known each other, they've been helping us along the way: me, my brother and my family," Hernangomez said. "Pau and Marc, they both texted us almost every two days to see how we were doing in our first year in the league to see if we need any advice, if we need anything."
"And then, during the summer, especially during the National Team, we used to work out with each other. My brother was with Marc, and I was working a little with Pau. We've been competing against each other — obviously, they've been beating us every time, because they're so good. But I think all the little things that we learn from the Gasol brothers are so valued for us that I think we're never gonna say thank you enough to them. It's been great. Even right now with Pau, who has been retired, and Marc has been playing back home with his own team [Bàsquet Girona], we're still in touch with them. I'm looking forward to this offseason to spend time with them and see their families and their kids as well. Our relationship is like a family too. I'm just very proud to see the Gasol brothers and how they've been taking care of us."
It's impossible to translate the familial feel among Spanish players because here, there is no true equivalent. Athletes from the same neighborhood, school district, college or team do grow close over the years, and they do form brotherly bonds. Making it to the NBA is virtually impossible for most, so sitting there at the top with people from your background means something. American athletes fight to get on the radars of recruiters and scouts, but for international athletes, it's a different world.
Every international player faces the same hurdle: at some point, the goal is to make the transcontinental leap to North America to play. The best basketball is here, and everyone — from the streets of Los Angeles to the courts of DRC — is climbing to close the distance. It can be a lot harder without American footing. The endeavor to make it in America pushes international players closer together, creating fraternal bonds out of national ones. Serge Ibaka is originally from Brazzaville, Republic of Congo, but he went to play basketball in Spain at 17. Now, he is a beloved member of the Spanish National Team and one of the most notable Spanish players to play in the NBA. Ibaka is a part of that older generation of Spanish players that instilled those close-knit values into Willy and his brother.
"We've got to be thankful for the guys that were before us on the National Team, that they bring that family meaning to the team, and I was lucky to be part of the team from almost 2014, my first time that I made it," Willy said.
"I learned how you need to compete, how you need to get through every day, how you need to take care of other people, how to enjoy the everyday. Right now, my role has honestly increased a little bit because obviously Pau Gasol and Marc Gasol have both retired, so I'm taking the challenge to be one of the leaders of the National Team on and off the court. I'm actually looking forward to being the captain too, but it's a challenge, it's a beautiful challenge that I would love to have. For me, I just try to keep pushing my teammates to be better and to accomplish their goals, which is trying to get more medals and trying to keep Spain at the level that we've been, which is really hard because we don't have those guys right now. But I think the future's bright for us. We have young guys coming that are hungry, they're working hard, and we just want to win and we want to compete. I think we're gonna be great in the future."
The truth is, Spanish basketball is already great. The ACB, Spain's NBA equivalent, is considered "the strongest in Europe." The celebrated Real Madrid and Barcelona also have winning basketball counterparts, which are "historically also the two most successful in Spain."
Even though Spanish basketball has an international reputation for developing some of the best talent outside of the U.S., the Spanish National Team without Pau Gasol wasn't expected to win gold in 2019.
Winning unexpectedly, and with his younger brother, made the World Title even more satisfying.
"Las cosas en equipo, las cosas en familia, saben mucho mejor," illustrates that as good as it feels to win as a team, winning together as a family tastes so much sweeter. When Willy reflected on the Spanish phrase's meaning, he included his whole team in that family.
"We are not just a team or a regular friends or teammates. We are family," he said.
"Nobody believed [in us] from the beginning," Willy continued. " If you said, 'Spain will win the World Championship', no one would believe that. I think the way we grew during the championship, we became a unit. Everybody knew his job, knew his role. Everybody was helping each other. We played against Italy and Serbia, and we knew we could do something big in the tournament. I don't think you need to have the most talented guys — you need to be more competitive first, and then the most family [energy] in the locker room. The best locker room and the most guys that want to compete, they want to get the gold, so we were the guys who wanted more. We played well as a team and we made history for Spain by winning the second World Champions for our country, which was amazing, and nobody believed in us, so that was even more incredible."
Willy and Juancho won that one together, but when they tried to win gold again, the NBA got in their way. Juancho was selected and cleared to play for Spain in the 2020 Tokyo Olympics last summer, but the Minnesota Timberwolves prevented him from doing so. The Timberwolves would soon trade Juancho — to prevent him from further worsening an injury, they told Juancho he couldn't play for his country at the Olympic Games. The moment highlighted the challenge between NBA loyalty and national pride, a balance that both Hernangomez brothers struggled with in that moment. Willy tweeted, "#FreeJuancho" to express his frustration with his brother missing his Olympic debut.
"It was hard for me, seeing myself with my brother, enjoying his first Olympic experience and that image of their first day of the Olympics," Willy said. "One day before our first game, he got the bad news about how the team wouldn't let him go, and we understood. We are basketball players and our job is to play for our NBA team, but the NBA team needs to know as well that our dream and our best moment of the year is to play for and represent our country because it's so beautiful. I think they understand that when the American players want to play for the USA team."
"It was bad, I think it was a bad situation," Willy continued. "My brother had a bad injury, which was really scary. But we've got to thank God that it wasn't that bad and he was working 24/7 with a therapist and with the weight room and trying to get healthy. At the beginning, we went to Vegas to play a game against the USA and there were doctors for the team and for the NBA, and they say he was allowed to play in the Olympics. By the end of the day, everybody knows this is a business, and we knew he was about to be traded.
"That's why they wouldn't let him play and maybe get hurt or whatever, so his value will be higher. But obviously disappointed with the decision, but I think my brother took it as a motivation to keep working hard. The good thing about the Olympics was that it was postponed and you don't need to wait another four years. We just need to wait three more years until the next Olympic Games in Paris 2024. It's around the corner. We have a couple years to keep working, and my brother is going to use that as a motivation to be more ready than ever for the next Olympics."
Spain finished sixth in the Tokyo Games, but the future is bright for the Spanish sons of basketball. Juancho was just traded to the fourth-ranked team in the Western Conference, and a CJ McCollum trade to the Pelicans just bolstered a bottom-ranked team that has quickly risen to play-in contention. There's still quite a bit of time to win gold, and there's more than one way to win it.
Pau and Marc Gasol left a legacy for Willy to inherit: not just as a towering, efficient Spanish center, but also as the next eldest in a treasured lineage of greats.
"I will try to share that for the next generation that comes in with the National Team," Hernangomez said. "Even in my team, here with the Pelicans, I'm trying to share that with the young guys because I can teach them and help them to grow and to see and to learn. I think that's my job."
Los Pelícanos de Nueva Orleans
Willy Hernangomez loves New Orleans.
He loves its 300-year history, especially the fact that the Spanish once ruled the colonial city before the French reclaimed the territory. He loves seeing plaques denoting that from 1762 to 1803, Bourbon Street was known as "Calle De Borbon." Willy knows that New Orleans is an American city like no other, and he likes to remind his Pelicans teammates of its Spanish influence.
"I see the art of a couple of buildings when I'm walking around. And actually, a couple of the names of the streets around New Orleans, they are Spanish names," Willy said.
"One of my teammates is from Baton Rouge, which is close to New Orleans, and I told him, 'You are from Spain,' because New Orleans was so recently for Spanish people. We took this place first, then we sold it to the French guys, and then we bought it again. That's what I like about this city because it has so much history that you can learn, it's not only about food. I think there's so much to learn about the city, which I love. We have a beautiful museum about World War II, and there's a lot of things to do here. I really am enjoying my time here in New Orleans, specifically this year since we are allowed to go to different restaurants and museums and theaters. It's just the beauty of the city. This city has something special."
Spain also left an impression on New Orleans Creole cuisine, although Willy has yet to try many Louisiana dishes. To his credit, he did savor gumbo recently — and he compared it to lentejas, a Spanish lentil soup. Jambalaya is another Spanish-inspired dish resembling the crown jewel of Spanish cuisine: paella. If forced to choose, Willy vows his allegiance to the famous Spanish delicacy.
"Are you going to put me in that situation right now?" Willy joked when asked about his favorite. "To all the Pels fans, I would say… Louisiana food is amazing, but  I'm going to be truly honest with you: paella is my favorite food. Real paella is my favorite food. When I go back to Spain, I have paella at least once or twice a week because it's so good. Please, guys, you've got to try paella if you can because it's so amazing. So I will take paella, okay? Pels fans, don't be mad at me."
The buildings and street signs are welcoming for any Spaniard, but the reason Willy considers New Orleans his new home is because of his teammates. New Orleans has welcomed him, and in turn, he has shared with his teammates the value of treating a team like family.
"My role here on the Pelicans right now is not only as a player: it's as a person, as a brother, of my teammates," Willy explained. "One thing that I always tell my coaches and teammates is that I see you guys more than I see my family, so you actually are my family. So, I want to go to the practice facility every day thinking about how I want to get better. I want to hang out with my teammates — we're a family — and try to help each other."
"For me, my team is my family, my arena or practice facility is my house, and I just love my teammates. I'm so happy to have great teammates because sometimes you hear people have bad teammates or whatever. No. Here, everybody's great — humble, working hard — and we have superstars. We've got Brandon Ingram, Zion Williamson, Jonas Valanciunas, which are superstars, but they are humble, two-way guys. That's the beauty of this team. I think the sky's the limit for us, and I think we're going in the right direction."
Willy's late-January words were an eerie predictor of what was to come around the Feb. 10 trade deadline. The Pelicans made a blockbuster trade with the Portland Trail Blazers, but for the first time in recent years, this had the primary talent flowing into New Orleans rather than out. The Pelicans traded players Josh Hart, Nickeil Alexander-Walker, Tomas Satoransky, and Marcos Louzada Silva in addition to a protected 2022 first-round pick and two future second-round picks.
In return, the Pelicans received CJ McCollum, Larry Nance Jr., and Tony Snell. With McCollum to bolster their offense abilities, the Pelicans could make a solid play at the play-ins. The team that was once battling with the Houston Rockets for the bottom Western Conference spot may even make the playoffs.
"I think it's the beauty of the journey," Hernangomez reflected. "We're going to be together in the bad days and the in the good days, so we can't take it personally. If we have a bad loss because of the playgroup, everybody's up early the next morning to get better, to work and to push each other, and we try to compete, we try to get better. I know we are a young team, and this is a long process. We're gonna trust the process. I know this is like a big phrase, but it's true. The team doesn't win until the next day. It's a long process that you have to work and you have to trust. And I think what we got here in New Orleans is so beautiful, so special, that we try to build something so good that I think is gonna be great for the future. And I feel so important for the team, and I love it. Obviously, I would love to play more, I would love to do more things. But my role right now is to keep this chemistry high and try to build the culture in the city of New Orleans and the friends on the Pelicans which is, I think, one of the best in the NBA for sure."
His team is rapidly improving, and it is a result of the chemistry and rhythm Hernangomez and his teammates have been building throughout the season.
Hernangomez is all about the team, and if he wasn't, the Pelicans trade for Jonas Valanciunas may have been harder for him to accept. Valanciunas came in, Hernangomez lost minutes, and it was admittedly difficult for the Spanish center. Still, he's the one who was cheering on "Joni Macaroni" to get an All-Star nod. Even if it means he has less time in the spotlight, Hernangomez takes it as a challenge to be his best and earn his time on the court.
"Honestly, I was feeling really good," Hernangomez said of his high PER and impressive stats in 2021-22. "All the work that I was putting in all this year, all this experience and all the work that I'm putting in behind it, and even during the season, it was paying off because I was playing really good. I think my best basketball was coming, so I was feeling really good, and right now, being out of the rotation, it's been hard because I didn't expect that this year because I think like I can really help the team to win and accomplish our goal of making the playoffs. But, you know, sometimes the league is like that."
"So right now, I'm not playing, but I'm working as hard as I can — even more than before — to try to get ready because I know my opportunities is coming, so I'm just being patient and working really hard. And when my opportunities come, I'm sure that I'm going to take advantage of them again, don't let nobody take my spot again. So I'm just ready. I'm waiting."
An NBA franchise that has been scoffed at for recent trades is acquiring, building, planning, waiting. So is Hernangomez as he waits for his own moment in the American sun.